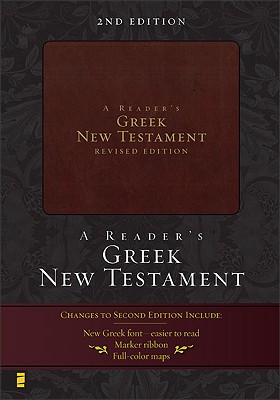 Stock Image
Author Name Goodrich, Richard J.
Title Reader's Greek New Testament-FL
Binding Novelty
Book Condition New
Edition 2
Publisher Zondervan October 2007
ISBN Number 0310273781 / 9780310273783
Seller ID 66466
Ideal for Greek students and pastors, A Reader's Greek New Testament saves time and effort in studying the Greek New Testament. By eliminating the need to look up definitions, the footnotes allow the user to read the Greek text more quickly, focusing on parsing and grammatical issues. This revised edition offers the following features: * New Greek font---easier to read* Footnoted definitions of all Greek words occurring 30 times or less* Mini-lexicon of all words occurring more than 30 times* Greek text underlying Today's New International Version* Footnotes offering comparisons with UBS4* 4 pages of full-color mapsFeaturing a handsome Italian Duo-Tone binding, A Reader's Greek New Testament, 2nd Edition is a practical, attractive, and surprisingly affordable resource.
Price = 25.99 USD